Minco Minerals has emerged as one of the leading companies in mining industry from Telangana, India.
The company produces and exports minerals like Quartz and Feldspar.
The company also has Factories which enables them to convert the minerals into mesh form and also they segregate the minerals into different grades as per client demand.
The young and dynamic directors have excellent coordination and their passion towards work have achieved company a remarkable progress.
Total production in tones
Achievements
Minco Minerals have achieved a remarkable progress in short span of time. Some of our achievements are listed below.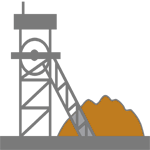 We own Factories at Kandukur and Karthal where we do grading and convert minerals in mesh or grit sizes as per customer demands.
We have experienced and skilled labour, advanced machinery like Excavators, Trucks etc., which helps us to meet the customer demand.
The effective team strategy has bought us renowned clients like Chettinad group, Sibelco Minerals, Imerys, Ceramin, AGI Glaspac.
We own 9 mining sites in just 4 years which cover an mining area about 200 acres and we are among top mining companies in Telangana,India
Our Team
Our team is the vital strength of Minco minerals, the Young and Dynamic Directors are added advantages for team. The way the team members share the work and Coordinate with them is par excellence.
MUNUGULA SHASHIDER REDDY
Director
Shashider has got 4 years of experience in mining industry. He acted as backbone to the company and bought renowned clients like Chettinad Group.
MARRI VAMSIDHAR REDDY
Director
Vamsidhar is a passionate, optimistic & dedicated man. He analyses the foreign market trend and implements the right strategy accordingly in right time.
JAKKULA TANAY   REDDY
Director
Tanay is highly motivated to achieve greater success. He manages production supply chain which includes organizing employees and machinery etc.
BHOOMIREDDY SRIKANTH
Director
Srikanth an expert in international Marketing handles accounting, branding , advertising , marketing and creating a brand presence